Suppliers of consumer goods: Are you covered for the activities of a Deemed Manufacturer?
Does your business supply consumer goods that are manufactured by others? If so, it is important to understand you may be exposed to liabilities as a "deemed manufacturer" under the Australian Consumer Law ("ÄCL"), even where your business has no direct role in manufacturing the consumer goods.  It is important to consider how you can manage your exposures as a deemed manufacturer through risk management practices including contractual arrangements and quality control.  It is also crucial that you review your insurance policies to ensure they will respond to third party claims alleging wrongful conduct as a deemed manufacturer.
Consumer Guarantees and the Australian Consumer Law
The ACL forms part of the Competition and Consumer Act 2010 (Cth) and contains various provisions that serve to protect the interests of consumers.  These include protections in relation to misleading or deceptive conduct, unfair contract terms, unsolicited marketing practices, and consumer guarantees.
The ACL consumer guarantees apply where there is a supply or re-supply of goods to a "consumer" in the course of trade or commerce.  There is a supply to a consumer where:
The amount payable for the goods does not exceed $40,000;


The goods are of a kind ordinarily acquired for personal, domestic or household use or consumption; or


The goods consisted of a vehicle or trailer acquired for use principally in the transport of goods on public roads.
An exception is where goods are used in the manufacture or processing of other products which are then supplied to consumers.
The consumer guarantees are set out below and cannot be excluded by contract: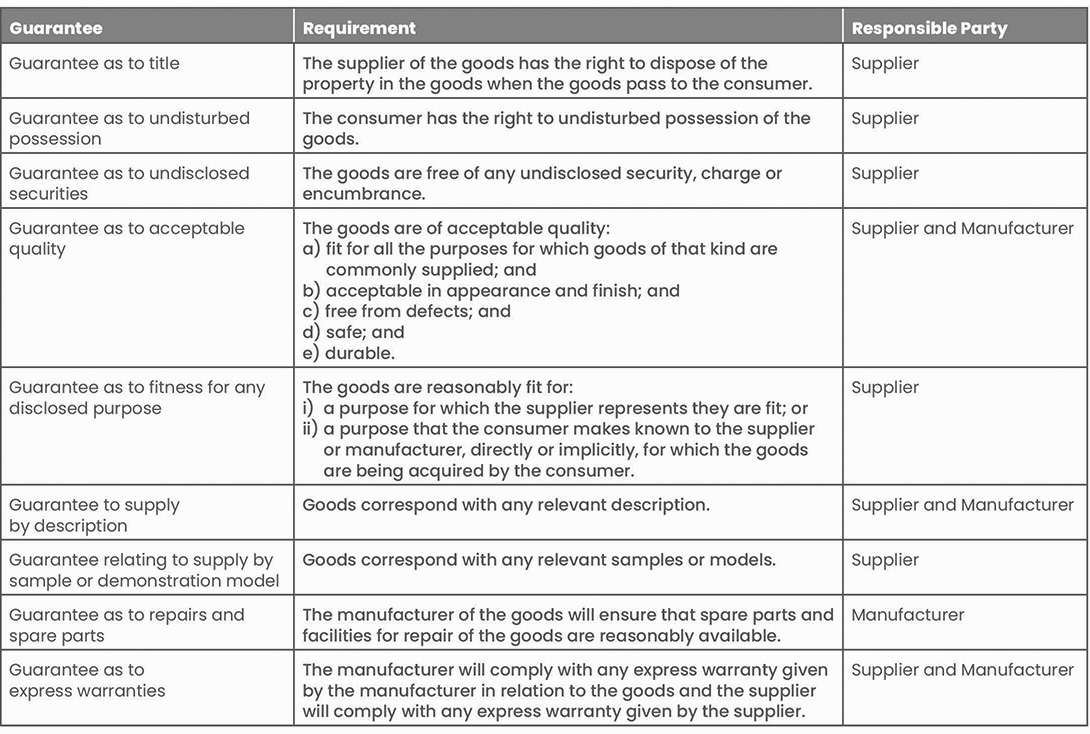 The ACL defines a "manufacturer" as any person who:
grows, extracts, produces, processes or assembles goods;


holds themselves out to the public as the manufacturer of goods;


uses their own brand or name in relation to the goods; or


permits others to use their own brand or name in relation to the goods.
The definition is extended to include persons who import goods into Australia, where they are not the manufacturer, and the actual manufacturer does not have a place of business in Australia.
Consumers can elect to bring a consumer guarantee claim against the supplier, the manufacturer or both. Whilst there are provisions under the ACL that create an indemnity from the manufacturer in favour of the supplier where the supplier is found liable as a deemed manufacturer, if the goods you supply are manufactured by others, there is still the risk that:
your business could be held liable for defects that arose in the manufacture, assembly and packaging of your products, even where your business had no role in those processes;


if the manufacturer becomes insolvent, the consumer will be forced to issue proceedings solely against you as the supplier and there will be no rights of recourse against the manufacturer; and


if the manufacturer is located overseas there may be complex jurisdictional issues to consider such as the application of private international law, choice of law, enforcement of foreign judgments and navigating the different legal processes of foreign nations.
What are the implications for your insurance policies?
If you supply products manufactured by others, you must consider the following from the perspective of insurance coverage:
Manufacturers and suppliers do not share the same risk profile and insurers may apply different premium ratings, terms, conditions, and have a different appetite for each activity. There are strict disclosure obligations apply under the Insurance Contracts Act 1984 (Cth) and it is important to ensure that you and/or your broker have accurately informed the insurer of factors that could be relevant to assessing the risk of you being liable as a deemed manufacturer. Whilst different factors are likely to be considered in each case, the following are likely to be relevant:
The types of goods that are imported;



how the goods are packaged and transported;



where they are imported from and what foreign laws and manufacturing standards apply;



whether you have any role in the quality control process, overseas and/or locally;



whether you have any role in the design of the goods and/or you are responsible for re-assembling, re-packaging, mixing components etc, after the goods have been received from the manufacturer;



what contractual arrangements are in place with the manufacturer;



whether the manufacturer has its own insurance in place; and



whether the goods are sold online or in person.

How the policy is underwritten
Some policies undergo rigorous, manual scrutiny by underwriters whereas others are suitable to be issued through online portals with fewer underwriting queries and more pre-determined parameters. The type of policy and mode of underwriting can then impact on whether certain coverage extensions or exclusions apply so it is important to ensure your broker has considered whether and how all relevant coverage features are addressed in the policy terms and conditions.
Are your business activities properly listed on the Policy Schedule?
If you import goods that are manufactured by others, it is important that your broker has informed the underwriter of this and also gauged whether it is necessary to include, "importing goods" or the like in the Covered Business Activities description – some insurers will treat "supplying goods" and "importing goods" (or the like) as being separate and distinct activities.
Adequate Products Liability cover
You should have a Liability policy which covers both Public Liability and Products Liability. Public Liability covers your legal liability to pay compensation for third party injury or property damage arising in connection with your disclosed business activities, whereas Products Liability covers you in respect of the same legal liabilities, but where the injury or damage has arisen from the provision of your products.  It is important to note that under most Liability policies, the Products Liability section has a limit for each occurrence arising in a loss, as well as in the annual aggregate.  This means you can only have one full-limit loss each policy period for Products Liability claims.
It is quite common to see Product Recall Expenses covered as a built-in extension or endorsement under Public & Products Liability policies.  These are typically the first-party costs associated with recalling products and issuing relevant notices to consumers and the public.  The extension is not always offered as standard and can trigger additional premium and underwriting questions.  For large suppliers and manufacturers, it may be necessary to obtain cover under a standalone Product Recall Expenses policy.
Statutory Liability Exclusions
Most Public & Products Liability policies only cover the policyholder in respect of civil liability and clients cover their liabilities for statutory fines, penalties and formal investigations under a Statutory Liability policy.  It is important to note that most Statutory Liability policies exclude claims relating to breaches of the Competition and Consumer Act and/or specifically the ACL.
Contractually Assumed Liability
As the supplier, you will ideally obtain contractual indemnities from the manufacturer for any liability you are exposed to as a deemed manufacturer. Your Public & Products Liability policy is likely to exclude any liability you have assumed under contract, that would not apply in the absence of the contract. Accordingly, if you waive rights of recovery or accept responsibility for the manufacturer's negligence, your policy may not cover those contractually assumed liabilities. If your business has agreed to indemnify the manufacturer for their conduct, it is important to review your policies and determine whether there are any applicable exclusions.
Risk Management Practices
In addition to ensuring that your insurance policies will provide adequate cover as a deemed manufacturer, it is also important to have appropriate risk management practices in place to minimise the exposure.  These include:
Undertake thorough due diligence of your manufacturers including financial position, litigation history, Work Health & Safety policies and procedures, manufacturing and transportation processes and conditions



conduct regular reviews of product designs and production processes



implement and review quality assurance procedures, both overseas and locally



test products regularly to relevant standards, including batch testing



ensure all marketing materials are consistent with the product specifications and outputs



provide clear and thorough user instructions



engage qualified legal representatives to draft and review contracts with manufacturers and consumers. Where you are dealing with foreign manufacturers, ensure you have appointed lawyers who are familiar with the relevant jurisdiction and that, if you have any doubts in relation to foreign laws or procedures, that you seek to nominate Australia as the law governing the contract



implement formal Business Continuity Plans that address crisis management for a product recall event. Ensure that the manufacturers have been consulted in respect of their role if there is a product recall.

Key take-aways:
It is important that suppliers of consumer goods understand that they may potentially be held liable as a deemed manufacturer, for the errors of others occurring during the manufacturing process.  Suppliers should:
Ensure that their activities have been properly disclosed to their insurers;


Review their policy wordings to confirm liabilities as a deemed manufacturer are covered;


Determine whether relevant policy extensions, such as Product Recall Expenses, are covered;


Review contractual administration and risk management practices to minimise the deemed manufacturers exposure.


For personalised advice regarding the insurances you may require as a supplier of consumer goods, and to obtain a quote, please contact us via the form below.